The following are prizes to be won at this year's event (descriptions are taken from BoardGameGeek). All prizes were donated this year by Craving for a Game. Check them out!
In the super-fast sushi card game Sushi Go!, you are eating at a sushi restaurant and trying to grab the best combination of sushi dishes as they whiz by. Score points for collecting the most sushi rolls or making a full set of sashimi. Dip your favorite nigiri in wasabi to triple its value! And once you've eaten it all, finish your meal with all the pudding you've got! But be careful which sushi you allow your friends to take; it might be just what they need to beat you!
Battlestar Galactica: The Board Game is an exciting game of mistrust, intrigue, and the struggle for survival. Based on the epic and widely-acclaimed Sci Fi Channel series, Battlestar Galactica: The Board Game puts players in the role of one of ten of their favorite characters from the show. Each playable character has their own abilities and weaknesses, and must all work together in order for humanity to have any hope of survival. However, one or more players in every game secretly side with the Cylons. Players must attempt to expose the traitor while fuel shortages, food contaminations, and political unrest threatens to tear the fleet apart.
Ticket to Ride: Märklin
 is the third installment in Days of Wonder's best-selling 
Ticket to Ride series
.
Ticket to Ride
 can be learned in under 15 minutes. Players collect cards of various types of train cars they then use to claim railway routes in North America. The longer the routes, the more points they earn. Additional points come to those who fulfill Destination Tickets – goal cards that connect distant cities. The board for 
Märklin
 is based on a map of Germany and each individual card in the deck depicts a different Märklin Trains model. A new mechanic is also introduced in the form of passengers and merchandise tokens, allowing players new ways to earn more victory points. (Stand alone game)
Ticket to Ride: Nordic Countries: The goal in "Nordic" remains the same as base Ticket to Ride: collect and play cards to place your trains on the board, attempting to connect the different cities on your ticket cards. The map incorporates tunnels from Europe and also has routes containing ferries. Ferries will require a certain number of Locomotives to be played, as well as other cards, in order to be claimed. Locomotives are handled a bit differently as well. On your turn you may take 2 Locomotives if you want, but you can only use them on ferries, tunnels, or the special 9 length route.Unlike the USA or Europe maps, Nordic is designed for 2-3 players only and has a heavier focus on blocking your opponent and more aggressive play. (Stand alone game)
Ticket to Ride: United Kingdom & Pennsylvania contains a double-sided game board with new rules for use with Ticket to Ride with players now creating train lines in the British Isles and in Pennsylvania. The Pennsylvania half of this map collection adds a share mechanism to the basic TtR game. Each time that a player completes a route, they claim a share of one of the companies depicted next to that route. At the end of the game, whoever holds more shares of a company than all other players receives points as a reward. The United Kingdom half of this map collection introduces the concept of technology to TtR. At the start of the game, players can build only one- and two-train routes and only in England. By spending wild cards, players gain the ability to build routes three trains long or longer, in addition to being able to build ferries across water and build train routes in Scotland, Wales and Ireland. Players can also buy bonus cards that allow them to score extra points for taking certain actions during play. Despite the name, the map covers both the UK and the Republic of Ireland, that is, the islands of Great Britain and Ireland. (need base game)
Ticket to Ride Map Collection: Volume 4 – Nederland contains a new game board with new rules for use with Ticket to Ride with players now creating train lines in the Netherlands. The basics of TtR gameplay remain the same as always — players collect train cards in order to claim routes between pairs of cities with the overall goal of completing tickets they hold in hand — but Ticket to Ride: Nederland twists this gameplay in two ways. First, nearly every route on the game board is a double-route, with two tracks connecting cities. Both of these routes are in play no matter how many players are in the game. Second, every route — whether double or single — has a bridge toll that a player must pay when building on that route. On a single route or the first track of a double route, the player pays this toll — which costs 1-4 coins — to the bank; on the second track of a double route, the player pays this toll to the player who built the first track. Players start the game with 30 coins, and if you can't pay a toll, you must take a loan card to cover the fare, with each loan costing you 5 points at the end of the game. (need base game)
Ticket to Ride Map Collection: Volume 3 – The Heart of Africa, a single-sided expansion map for Ticket to Ride focuses on the central and southern "heart" of the continent displayed in a vertical format. This expansion introduces 45 new terrain cards, divided into three different terrain types. Each type is associated with different route colors: Desert/Savanna cards for yellow, orange and red routes; Jungle/Forest cards for green, blue and purple routes; and Mountain/Cliff cards for black, white and grey routes. Players can draw terrain cards just like train cards and they may use these to double the value of the routes they claim, under certain conditions. (need base game)
Ticket to Ride Map Collection: Volume 1 – Team Asia & Legendary Asia presents players with two set-ups on Earth's largest continent: • Team Asia from Alan R. Moon – Four or six players compete as two-player teams, with teammates sitting next to one another at the table. Each player has her own secret hand of cards and tickets, in addition to some cards and tickets being placed in a shared cardholder that either player on the team can access. When a player draws cards, she must place one card in the cardholder and the other in her hand (unless she takes a face-up locomotive, in which case it must be shared); when a player draws tickets, the first ticket kept must be placed in the cardholder and any additional tickets kept added to her hand. A player can spend her turn to add two tickets from her hand to the cardholder. A team's points are tracked collectively, and the team with the highest score wins. • Legendary Asia from François Valentyne – The main change in this set-up is that some of the routes through Asia are labeled mountain routes, with one or more spaces on the route bearing an X. Whenever a player claims one of these routes, she must place a train from her reserve in the Mountain Crossing area of the game board, earning two points for each such train but losing access to them for the rest of the game. The player who connects to the most cities in a single network earns a ten point "Asian Explorer" bonus. (need base game)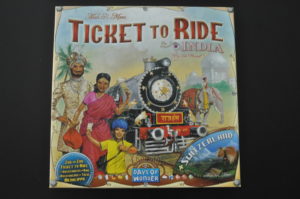 Ticket to Ride Map Collection: Volume 2 – India & Switzerland presents players with two scenarios: • India from Ian Vincent – On this game board for 2-4 players, in addition to scoring points for claiming routes and completing tickets, a player can also score points in two other ways. First, the player with the longest continuous path of trains receives a ten point bonus. Second, each player scores bonus points for connecting the cities on one or more tickets with two distinct routes. The first two such tickets earn five additional points each, and the next three earn ten points each for a maximum bonus of 40 points. • Switzerland from Alan R. Moon – This is a reprint of Ticket to Ride: Switzerland, first published in 2007. This game board is for 2-3 players only. Instead of connecting only cities, some destination tickets connect a city to a country or one country to any of those surrounding Switzerland; a player who completes such a ticket scores the highest point value for which they qualify. Unlike most other TtR games, discarded tickets are removed from the game instead of being returned to the ticket deck. Also, Locomotives can be used only to build tunnels. (Need base game)
Sobek: Ancient Egypt… The temple of Sobek is being built and the market place is thriving. Loads of goods arrive by ship for the construction site and it is a race to pick the best items in order to sell them with the most profit. Of course, with so much at stake, not all the moves are legal, corruption is everywhere and cordiality scarce. Because in the end there can be only one winner!
Pirate Fluxx: A pirate themed variant of Fluxx, this game is much like the original. Simply follow the rules that are currently in play. Start by drawing a card and playing a card, but even those can be changed. Getting the Captain's Hat allows you to have a good bit of control, but watch out for Scurvy and Shackles, which will keep you from winning. Grab lots of Booty keepers, maybe some Ships, and expect a few new Surprise cards along the way.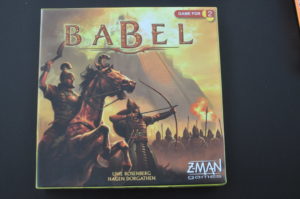 Babel: In Babel, each player makes use of members of various tribes of the ancient world to build temples, exploit (or exterminate) their opponent's work force, destroy or steal their opponent's temples and otherwise do whatever it takes to build the tallest temples to win the game.
Firefly: The game Players begin with a ship, and travel from planet to planet, hiring crew, purchasing ship upgrades, and picking up cargo to deliver (jobs) all in the form of cards. Some crew and cargo are illegal, and can be confiscated if your ship is boarded by an alliance vessel. Travelling from planet to planet requires turning over "full burn" cards, one for each space moved. Most do nothing, but you can also encounter an Alliance ship, have a breakdown, or even run into Reavers. Completing jobs gets you cash. First player to complete the story goals wins.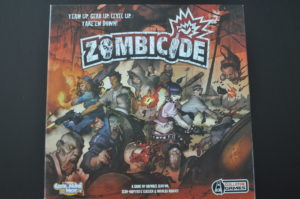 Zombicide is a collaborative game in which players take the role of a survivor – each with unique abilities – and harness both their skills and the power of teamwork against the hordes of unthinking un-dead! Zombies are predictable, stupid but deadly, controlled by simple rules and a deck of cards. Unfortunately for you, there are a LOT more zombies than you have bullets. Find weapons, kill zombies. The more zombies you kill, the more skilled you get; the more skilled you get, the more zombies appear. The only way out is zombicide!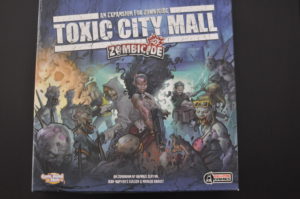 Toxic City Mall: Zombicide: This expansion will introduce mall tiles combining building and street zones for a different perspective on lines of sight. There will be also four new survivors (including their Zombivor versions) with new skills, and the six Zombivor versions of the 2012 core game heroes. The Toxic City Mall will also include new equipment cards (such as assault rifles, laser pointers or flamethrower) and new game modes: Toxic City Mall will introduce barricade rules, giant-sized rubble tokens to change your boards and Zombivor rules. Players will be able to lead these undead heroes against the zombie hordes, with totally new mechanics. Then there's the Ultrared Mode, allowing players to gain new Skills after reaching the Red Danger Level, and super Ultrared weapons usable only by Red Level survivors. (need base game)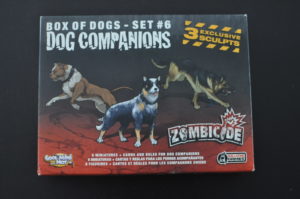 Zombicide: Box of Dogs: Dog Companions Set #6: This expansion set includes 2 sets of three different dogs. Their accompanying cards are placed in the equipment deck, and when found, the holder of the card becomes that dog's handler. Actions can be spent to command the dog to move, search, and attack. Dogs give their handler extra melee dice when in the same zone.
Zombicide: Zombi Dogz: Box of Zombies Set #5: This box of Zombie Dogz includes 20 miniatures and the cards to add to the zombie deck of any existing Zombicide base game. Zombie dogs are extremely fast and dangerous, getting three activations per turn.